Why LHM & Co?
LHM & Co's parent company, LH Media Inc, formed in 2012 as a media rep firm for several electronics engineer publications. Today, they are the North American sales channel for seven publishing groups covering nearly 20+ media brand within the electronics, LED/Lighting, and RF sectors.
After nearly a decade of building relationships and working closely with clients to develop media programs, the LH Media team recognized that most of their marketing contacts were overextended – usually a result of wearing "too many hats" in a busy and growing company. As the LH Media team grew, they would occasionally offer marketing support services to clients to help ease their workload. This occurred slowly and selectively as not to conflict with their core commitments and purpose.
In early 2021 LH Media was approached by a client with the idea of forming a partnership to expand marketing services. This would allow the marketing services business to evolve and grow, while defining a clear line between marketing agency work and the media representation business.
This idea became a reality as of July 2021. LHM & Co exists as a division of LH Media Inc, with an experienced & talented team of individuals handling a wide variety of marketing tasks between the two companies. LH Media Inc continues to grow both its customer base and media partnerships, and LHM & Co is organized and committed to serve as an extension of marketing teams (or lack of) that are stretched a bit too thin!
Here's to the future!
Sign up for our email newsletter
We send out a newsletter about once a month with content related to marketing in the RF and electronics manufacturing industry. If you'd like to stay in touch, sign up!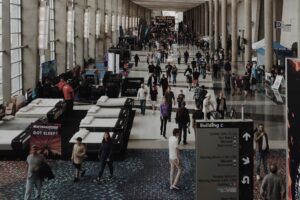 Industry trade shows can be one of the best ways for your company to make direct contact with your target…
Read More