Although email marketing has been in existence for years, there is nothing simple about navigating this promotional channel. Most of us have experienced the good, the bad, and the ugly of email marketing in our own inboxes.
It's all about quality
So how do you ensure that your prospects and clients perceive your company's emails as valuable and timely with consistent messaging? There are three main components to a successful email campaign:
Database hygiene and compliance
It is essential that your database of contacts is regularly monitored for activity and cleansed as needed. Not only will a healthy database improve the performance of your email campaigns, but with ever increasing privacy laws such as GDPR, CASL and CPRA, it is imperative to understand the nuances of these laws and ensure your database is compliant.
Audience development
Remember the days when everyone, regardless of demographics, received the same promotional emails for men's Rolex watches? Today, we consider these emails spam and there is no faster way to increase unsubscribes then to ignore relevancy for your audience. Creating intelligent and usable segmentation allows the right message to reach the right members of your database. This will lessen unsubscribes and increase engagement with your content.
Creative content and design
The sheer volume of emails in an average inbox is staggering. How do you get noticed in the crowd? You need intriguing subject lines and an appealing, easy to digest template that allows readers to quickly absorb your message. The content should be engaging, informative and relevant to ensure your brand's emails are perceived as valuable.
Spread too thin?
At LHM & Co, we have a team of B2B professionals ready to elevate your brand. Content development, template design, campaign strategy – we're working in these areas because we enjoy what we do! Our team has decades of experience in B2B marketing, and we've worked with numerous email and lead automation platforms such as Marketo, Pardot, Mailchimp, ActiveCampaign and Constant Contact. Our team is also well-versed in privacy law and database management, so leave the heavy lifting to us.
From content development, to email template design and database management, LHM & Co has the expertise to help your company build a winning email marketing strategy.
Sign up for our email newsletter
We send out a newsletter about once a month with content related to marketing in the RF and electronics manufacturing industry. If you'd like to stay in touch, sign up!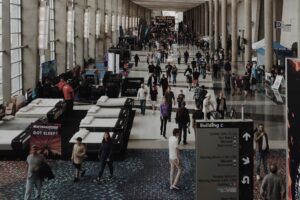 Industry trade shows can be one of the best ways for your company to make direct contact with your target…
Read More